Riding a bike is great. Riding with other people is better. Riding with other people, free coffee and a support vehicle is the best!
We have put together a selection of group rides as detailed below. The aim of these rides is to build up to longer distances each ride. So, if you are looking to start riding further this year, then this series of rides could be a great starting point for you. These are totally flexible, so if you fancy a longer ride and want to tag our shorter ride in as an element to your own thing, then great. Fancy only coming for the longer rides? No problem.
All rides will leave from the shop where bidons can be filled, gels stocked up and a free coffee can be had if you need to sharpen your wits. We will then head out in groups for a sociable ride, eventually returning to the shop for another, this time for a well earned, tea or coffee!
Longer rides will benefit from having our support vehicle with us in case of any mechanical issues, and to carry sweets and drinks for planned stops. (there will be a £5 charge for non-members to contribute to the driver).
So we can manage group sizes, please e-mail sales@wecycle.co.uk to sign up to any of the rides. Please include your name and which date you are signing up for in the email.
All rides are also available on our Strava page (https://www.strava.com/clubs/577216/leaderboard) and it would be sensible to also register your intention to attend on Strava as that way we can keep you posted of any route changes etc.
If you have any questions about the any of the rides, please get in touch with Gareth and he will be happy to help (gareth@wecycle.co.uk)
We Cycle 25km Easy Spin – Build Up to 100km
9:00 Saturday 25th March 2023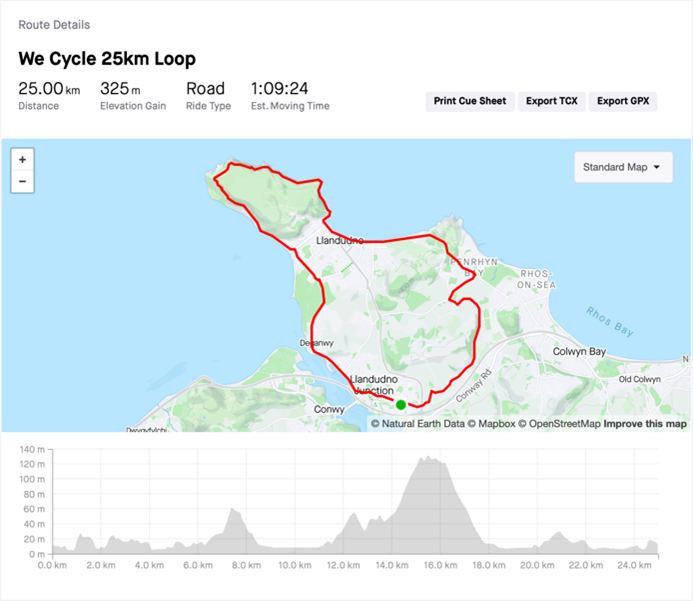 An easy sociable spin from the shop around the Orme and back again. Should take about an hour with a free tea or coffee at the start and end of the ride. If you are looking to build up to longer rides then this is a good place to start.
We Cycle 35km Easy Spin – Build Up to 100km Part 2
9:00am Saturday 15th April 2023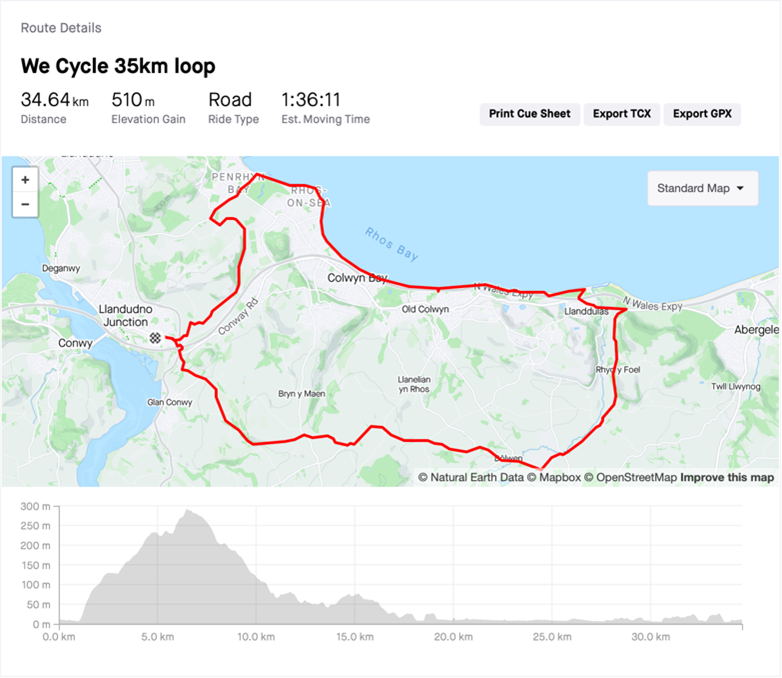 This is the second ride in our build up to 100km set, but you are welcome to join individual rides as you like. This will be a 35km loop starting and ending with Coffee. This route has a little more climbing than the 25km loop as it starts to introduce the types of climbs that we will be seeing more of as we grow our range of rides.
We Cycle 45km Loop – Build Up to 100km Part 3
9:00am Saturday 29th April 2023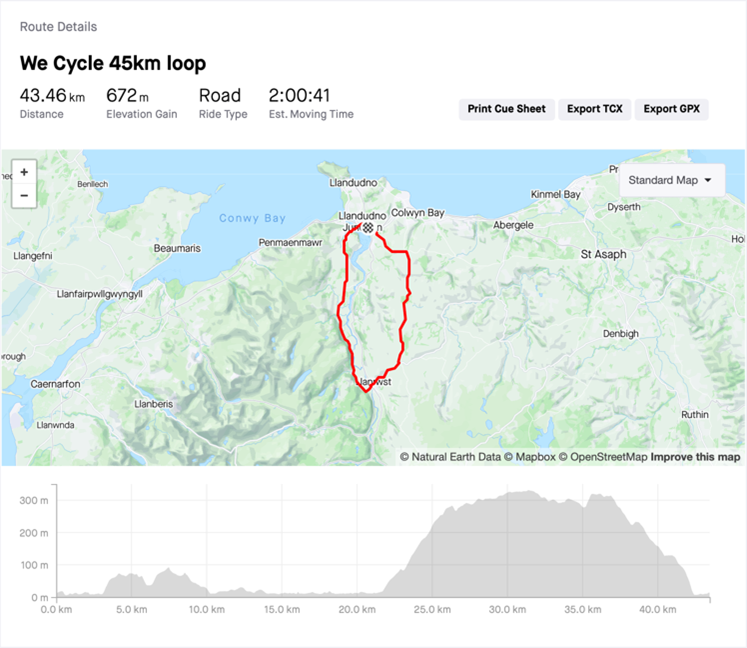 This is a ride which takes in many sections which local riders are very familiar with. Starting with a couple of lumps out of Conwy, we then get a nice relatively flat run along the old road to Llanrwst, which should provide an armchair ride for those wanting to save their legs for the main challenge of the ride. The climb out of Llanrwst is not to be underestimated but take it at your own pace and we will regroup at the top. The reward for the efforts to get up the hill is an undulating ride home, with stunning views. The final challenge is the tricky descent down to black cat. This is steep, and so needs to be taken only at a speed you are comfortable with. We will regroup at the bottom for the final km or so back to the café.
A support vehicle will be accompanying this ride.
We Cycle 60km Loop – Build Up to 100km Part 4
9:00am Saturday 20th May 2023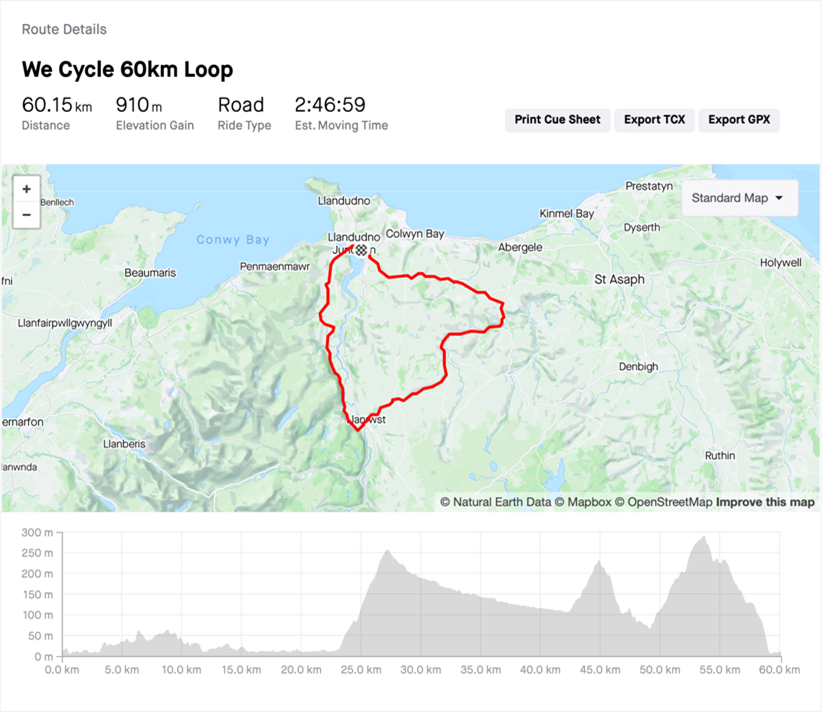 Onwards! Building on the 45km loop which saw our first significant climb, we are this time doing a similar route to start with (out of Conwy, along the old road, up Llanrwst Hill) but then we are extending. The extra distance shouldn't be a trouble, because after the Llanrwst Hill we have a glorious 15km or so descent to Llanfair TH. Use this to recharge the batteries as after we get our first taste of punchy climbs in quick succession. The climbs are manageable, it just takes getting used to having to hit two in relatively quick succession that is the key here. After that it's all an easy spin back to the shop for Coffee and Cake! Hurrah!
This ride will be supported by a mechanic in our shop van.
We Cycle 80km Ride – Build Up to 100km Part 5
9:00am Saturday 17th June 2023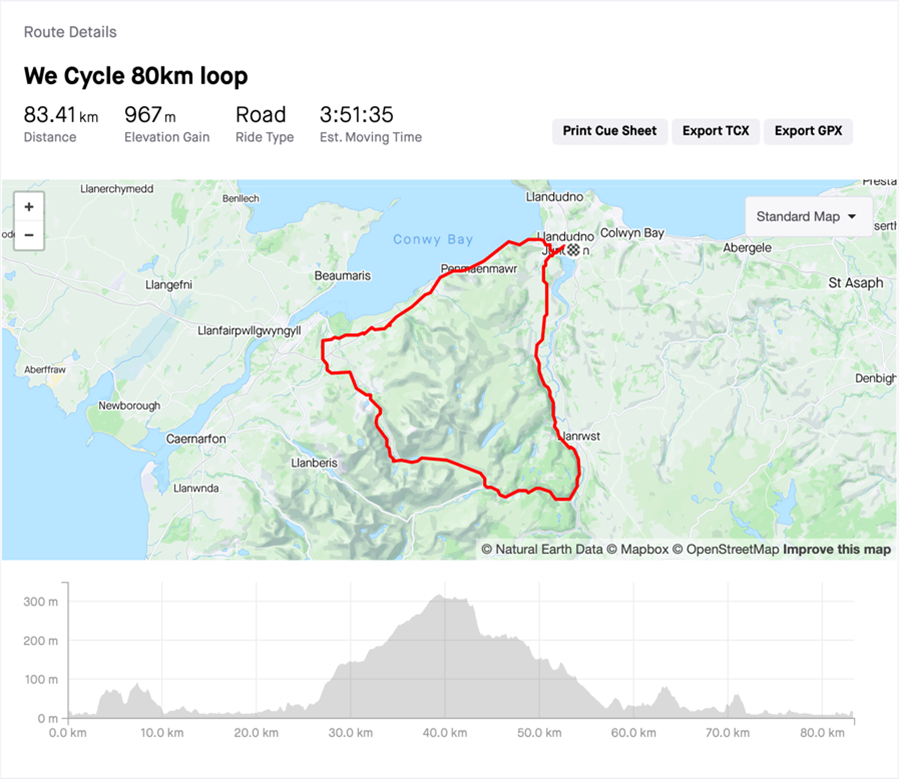 Todays ride is all about getting distance in the legs. Having done a descent amount of climbing in the 60km ride, this one takes in about the same amount of total climbing but spread over a longer distance. For this ride we head out to Snowdonia. A relatively flat and sociable ride out towards Bangor provides a nice way of easing into the one significant climb of the day – a 15km(ish) climb up from Bangor up to Llyn Ogwen. From there on, it is about enjoying the view and getting home, but don't overdo it. The long flowing descent from Ogwen down to Betws is fantastic, but it is tempting to put too much effort in here forgetting that there are a few lumps in the road still to manage before we get back. Save some energy for the final few climbs before Conwy to ensure you finish with a smile rather than a grimace.
We will have a mechanic in the van supporting this ride.
We Cycle 100km Ride – The Big Day!
9:00am Saturday 22nd July 2023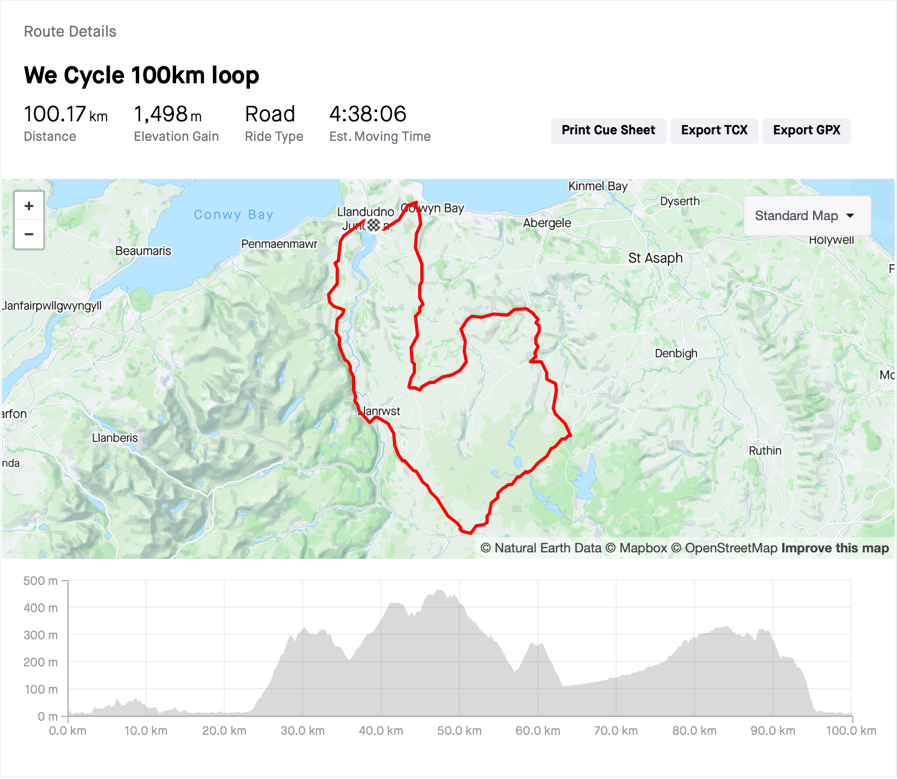 100km. If you have building up this with us over the months, then this is what you've been waiting for! If you are just joining for this ride, then welcome to some pretty stunning riding!
The direction we do this in will be wind dependant, but assuming a sunny day with just a gentle breeze to keep us cool, this route will head from the shop to Conwy, then out along the old road to Llanrwst where we will meet our first big climb, the Nebo road. Take the record times up here with a pinch of salt as this is used as a local Hill Climb spot, and no one is expected to go all snot and panting up here today! From Nebo, we have some beautiful views as we roll down to Petrefoelas, then up another long climb towards Llyn Brenig, before dropping down to Llansanan. Out of Llansanan we have a steep climb, then the equivalent descent to Llanfair TH before a long shallow climb (shallow enough to get some benefit of being in a group), before finishing with a roll along the tops, taking in the views before a final descent to Colwyn Bay and a warm-down flat spin through Mochdre back to the shop.
This ride will be supported by a mechanic in our shop van. We will have plenty of breaks to take on food and drink. This isn't a race. It's about completing the ride with a smile, alongside good company.